29th Annual Dream Garden Conference
Sunday January 26, 2020  9:00am - 3:30pm
Beehive Community Centre - Hespeler Memorial Arena
640 Ellis Rd. W., Cambridge, On., N3C 4K1
Presented by: Galt Horticultural Society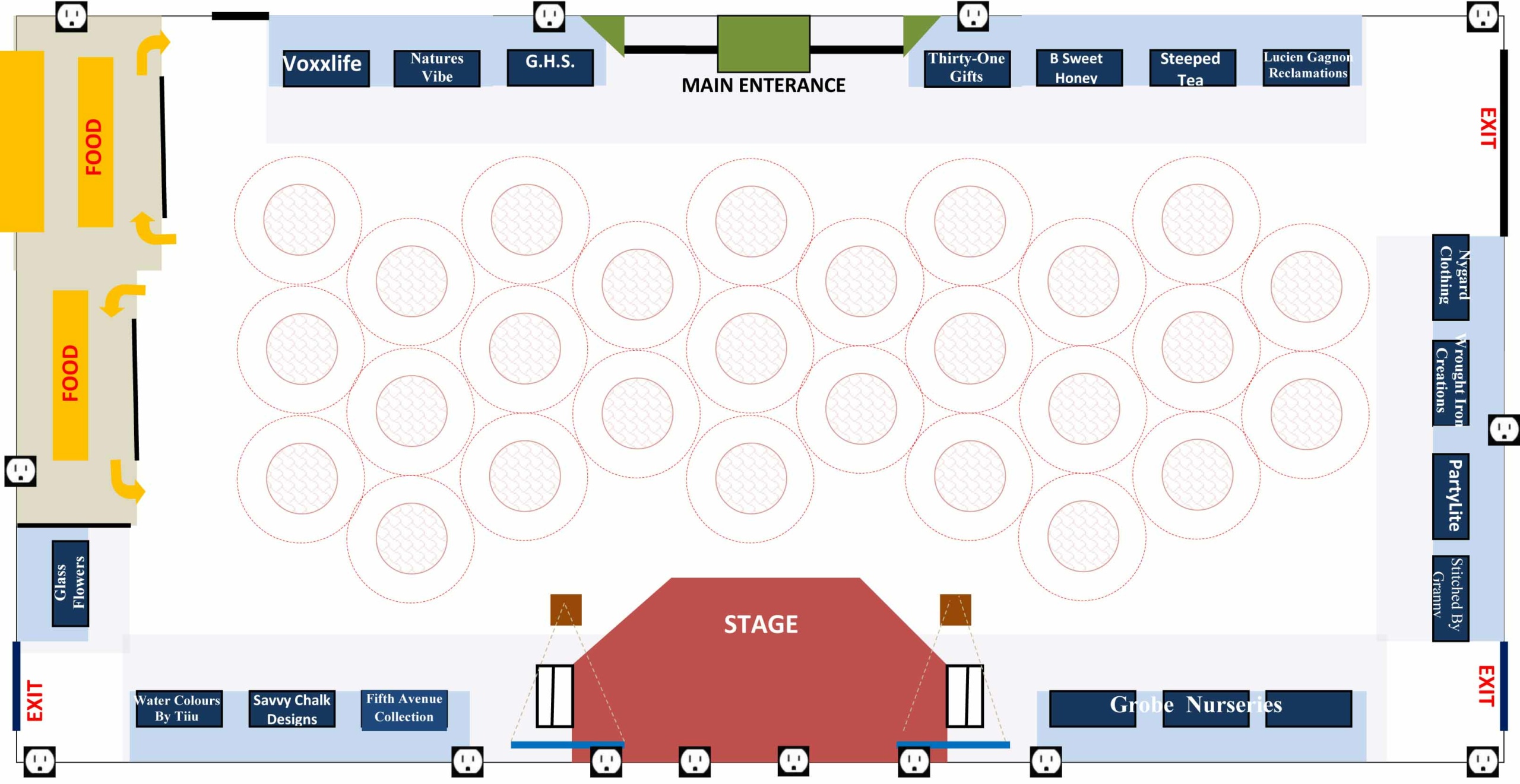 Double blue boxes represent available vendor spaces. All spaces are 8'wide x 6' deep and come with a 6' table. Vendors provide their own table covering an extension cords. Location of power outlets are indicated with a
symbol.
Terms and Conditions:
BOOTHS: Booths are assigned in the order that payment is received. If the booth you have selected has been taken, you will be contacted with alternate booths that you can select from. All booths are 8" wide by 6' deep and come with a 6' table. Vendors must supply their own table covering, none are provided.
SET UP: Exhibitors will be able to set up between 8:00am and 9:00am the day of the event. PLEASE SHOW UP ON TIME! There will be a line of people waiting to shop. And refrain from major changes during show hours.
EXHIBIT ARRANGEMENTS: Displays must remain within booth guidelines. Exhibits may not be attached to walls, building or flooring with nails, screws, tape, adhesive, or any other method of fixation likely to cause damage. Any damage done to property of patrons, the exhibitor, other exhibitors, Show Management and/or the facility will be paid for by the exhibitor in accordance with this paragraph and/or paragraph 9 of these terms and conditions.
CHARACTER OR CONDUCT: All displays and literature at the show must be in good taste and presented in a professional manner. Free samples may be distributed, orders for products may be taken and merchandise sold. If Show Management, in their sole discretion believes an exhibitor is conducting themselves in an objectionable manner, they may be expelled from the show. Any losses due to this action will not be covered and rental fees will not be refunded.
DISMANTLING OF SHOW EXHIBITS: Exhibits must be removed within one hour of event end time. Any materials left after that time may be disposed of by Show Management in their sole discretion.
SAFETY AND SECURITY: Exhibitors will assume responsibility for the safety of their exhibit, the property of others and the personal safety of persons using the facility, including fire and safety codes. There will be no open flames permitted at the show. All exits must be left free and clear.
GENERAL AREAS: No exhibitor shall use the general show areas to promote products and services or restrict the flow of visitors through the show. Special sponsorship for some public areas may be permitted by Show Management.
ADVERTISING: Exhibitors will benefit from all of our advertising efforts. Any additional advertising and use of logos should be approved by Show Management.
LIABILITY & INSURANCE: Neither Show Management nor the facility shall be responsible for injury to persons, products, exhibits or equipment during setup, throughout the show and during the dismantling of the show, caused by any conduct, act, omission, negligence, fault etc. on the part of one or more exhibitors. Exhibitors may wish to purchase their own insurance to protect against such occurrences. It is not mandatory, but recommended by Show Management.
INDEMNIFICATION: The undersigned agrees to indemnify and hold Show Management harmless against and in respect of any loss, damage, claim, cost or expense whatsoever, including any and all incremental out-of-pocket costs, including, without limitation, all reasonable legal and accounting fees, which Show Management may incur, suffer or be required to pay, pursuant to any claim that may be made or asserted against or affect Show Management as a result of the undersigned's participation in the trade show.
GENERAL: All matters and questions not covered by these terms and regulations are subject to the discretion of Show Management. Show Management will have the discretion to interpret and enforce these terms and conditions to ensure safety and proper presentation of the show. Exhibitor agrees to abide by these rules and the decisions of Show Management.
DOOR PRIZE: Each vendor shall supply one door prize with a retail value of approximately $25. The door prize provided will be given away on the day to attendees at the conference. You company will be acknowledged.
PAYMENT AND RECEIPT: Full payment is due upon acceptance and receipt of invoice from Show Management. Payment must be made to secure your table. We will cannot hold your table without payment.
Dream Garden Vendor Application
Please complete this form to request your space at the Dream Garden conference. Payment will be requested using PayPal, Credit Card or Debit Card on our secure PayPay site once form is submitted. We will contact you to confirm your booth selection once payment is received. Only upon payment is your spot secured. We reserve the right to deny any application. Only one representative from a company (i.e. only one Tupperware sales rep, AVON rep, Scentsy, etc.) may exhibit.  Booths will be reserved on a first come first served basis. Should a conflict arise over booths selected, you will be contacted to resolve the conflict.